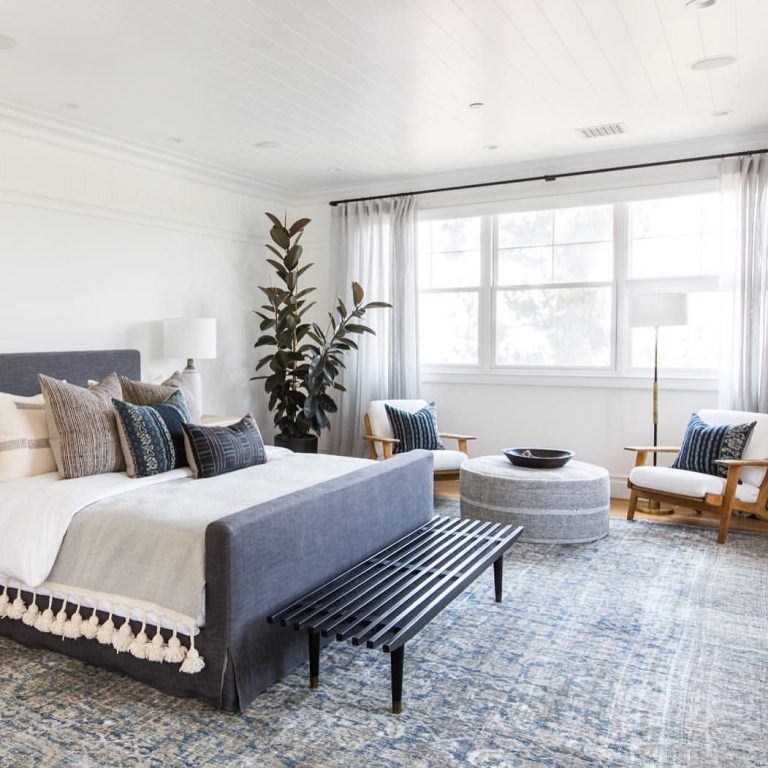 10 Layering Techniques Designers Use
Creating a home, not just a house, can be a little harder than it looks. This especially true for new build houses. But using layering techniques and decorative scheme that designers employ, will easily add texture and depth in your rooms, for a space that's perfect to relax in.
At Silk and Stone, our penchant is for a modern aesthetic with interesting patterns and pops of colours, but whether your interior love is modern, retro or contemporary, you can create a captivating layered look by choosing a variety of most treasured items and displaying them in an interesting way.
So, firstly what do we mean by "layering". We don't mean adding a few scarfs and extra cardi's! In interior design terms we are referring to adding texture, depth and levels of overlay that create interest and warmth to a room.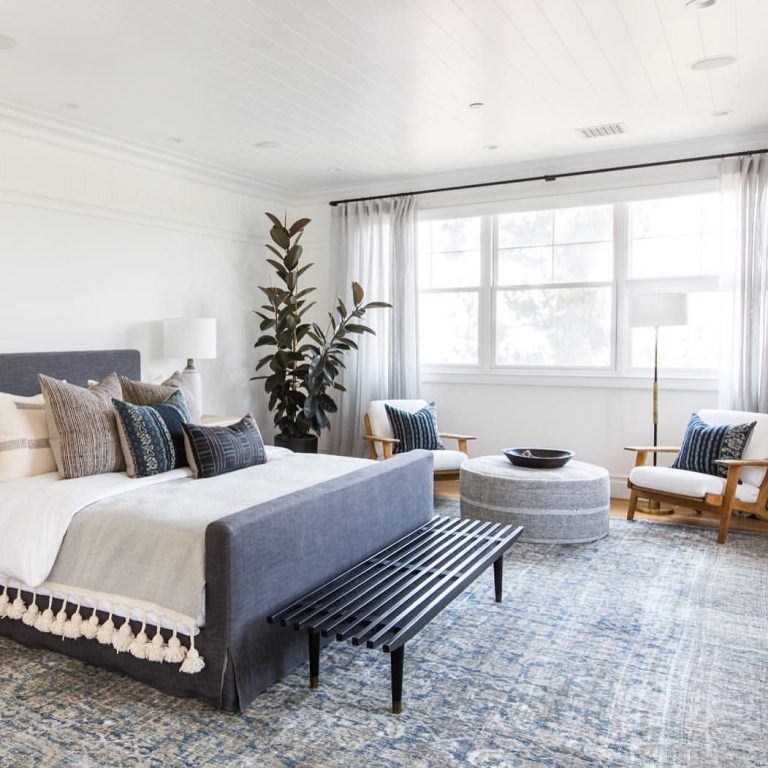 LAYER YOU PATTERNS
The beauty of layering is the mix and match opportunity. You don't have to have all your colours completely in tone; rather, play to the strengths of each colour picking out tones to highlight. The trend for Persian rugs are a great example of this style. They are normally multi-coloured with intricate designs. You could keep it as the only colour and pattern in the room, which would be a lovely focus, however you can also not worry about the rug design scheme and keep adding more pattern and colour! The is to keep the additional colours in keeping with the overall colour scheme and only add less intericate patterning. Keeping the walls and floors fairly plain will help. Or vice versa – have a patterned wallpaper and colourful window dressing and some furnishings, with the rest being more muted.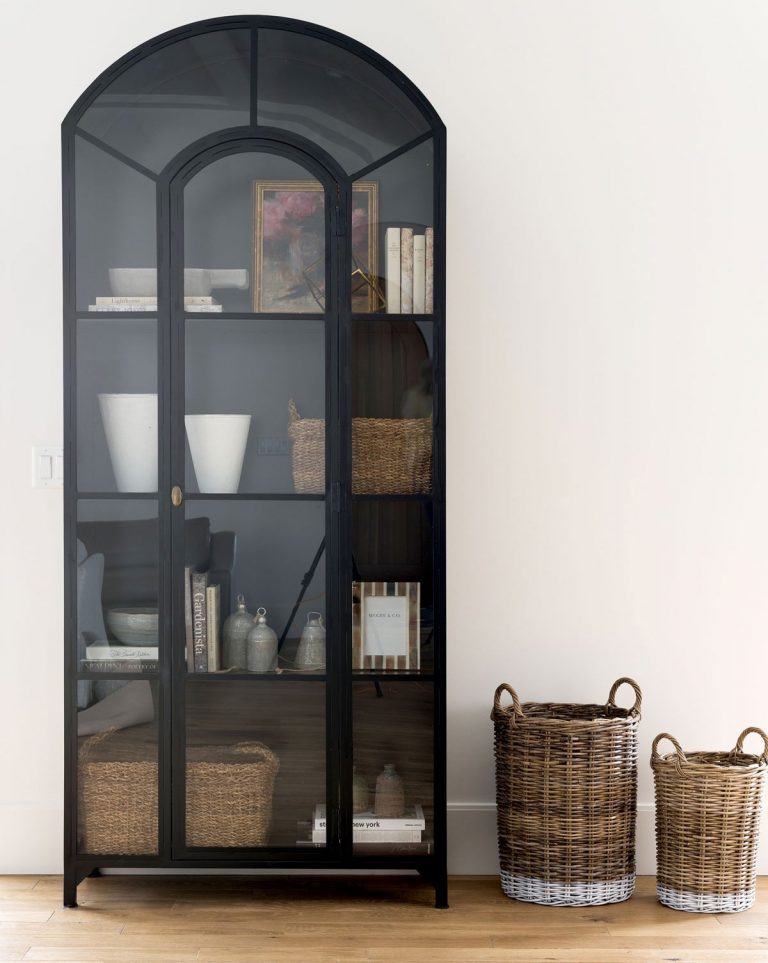 CHARMING CURIO DISPLAY
We've all picked up nik naks from travels or from family; cards or images from life events; and gifts to forget-me-knots from loved ones…these are wonderful pieces are what will add character to a home. So don't file them away – go ahead put them on show! Find ways to display them; layer them or purchase charming display units for your curio. If you prefer a more minimalist look, simply create an area where you use a collection of keepsakes to create a beautiful display. A cabinet does help tp ease dusting these areas! We love using retro mid century units for this as it adds to the display perfectly.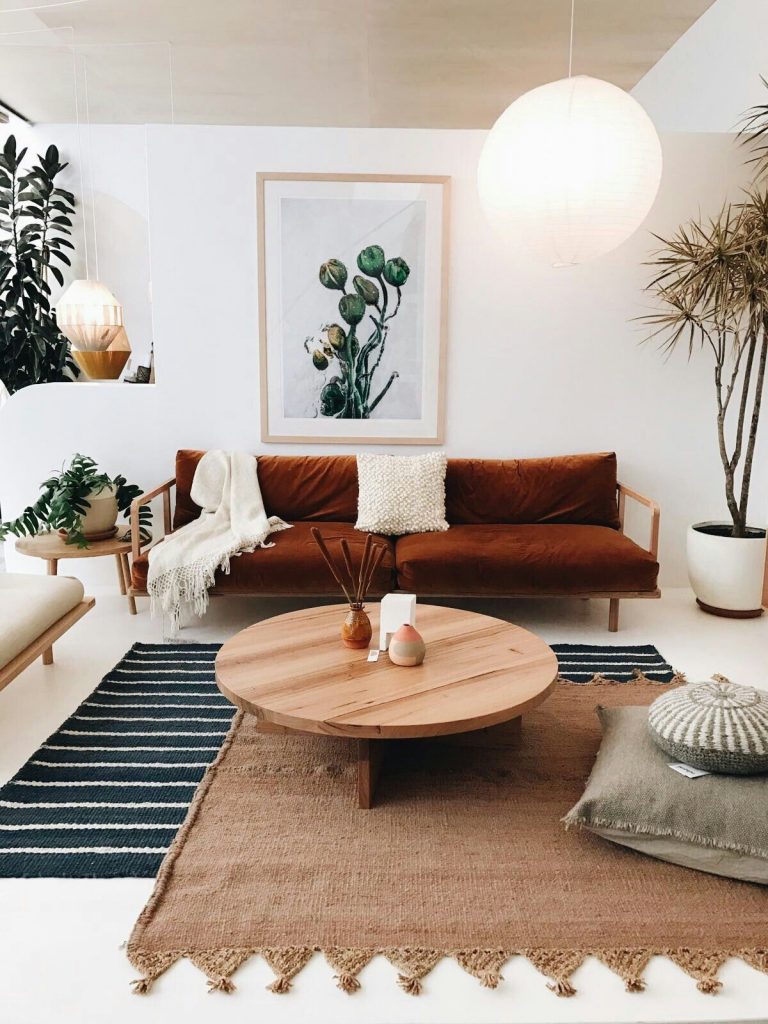 OVERLAY RUGS
A Persian rug looks great in a modern or eclectic setting, but adding a plainer shag rug for example, adds even more warmth and can also help zone an area with the room. The double rug combo create beautiful texture and adds immediate warmth, or hygee as the Danish say. They are definite fans of a layer or four! The result that the "hygge" idea aims to achieve is a feeling of warmth, coziness, and comfort. Overlay certainly achieves this.  If however you are a fan of lots of colour, but still want a splash and touch of antique you could add a small Persian rug to a larger jute or hessian one.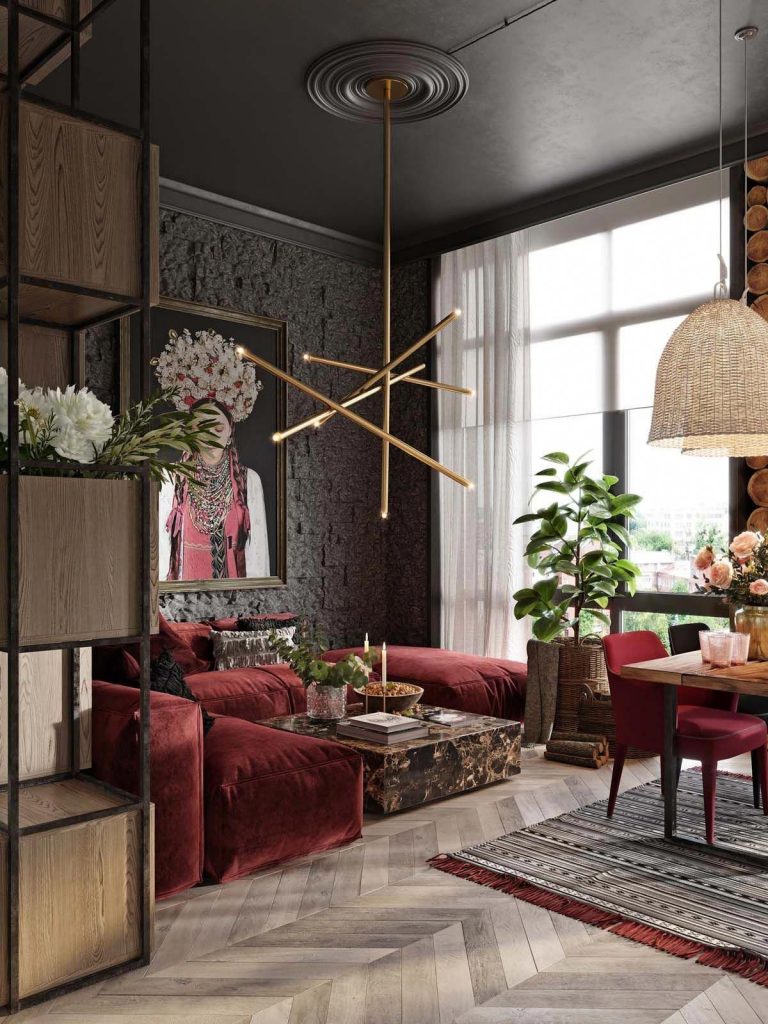 CREATING LIGHT ZONES
A wonderful way to create zones in a room, particularly in a kitchen or living room is through lighting. And as you use the room throughout the day you will move into different zones to create ambiance or highlights as you require it. From pendant lights over an island bench paired with down lights, to layers of table and floor lamps to wall lights that washes a wall. You can create mood and comfort when you explore using lighting in this way.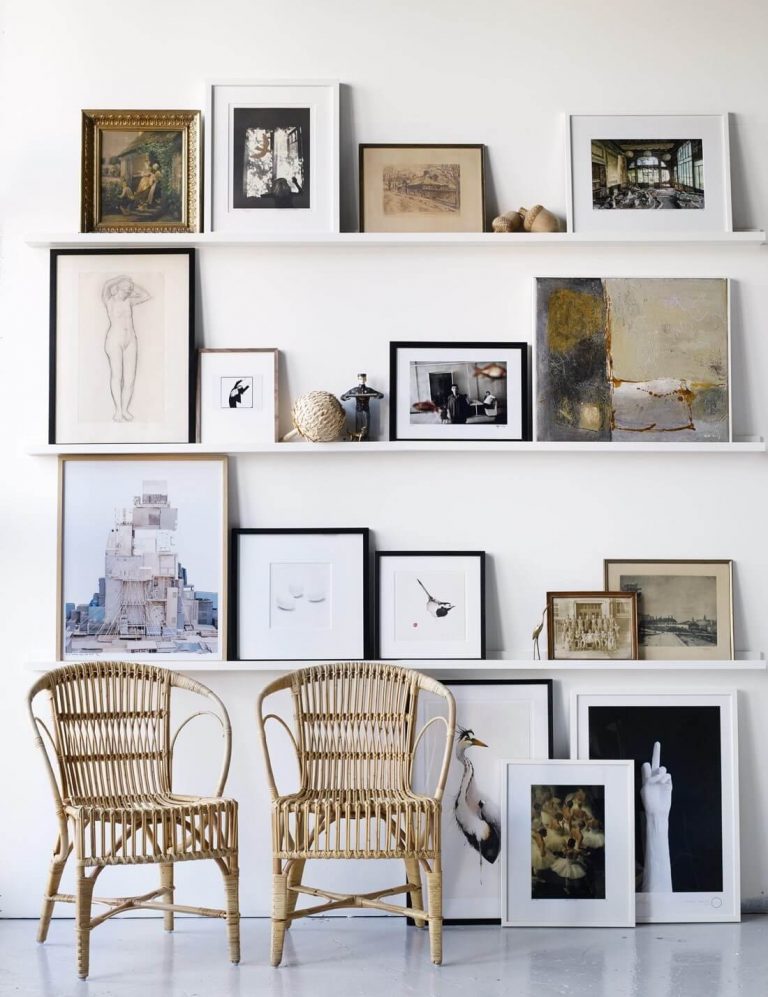 STACK UP YOUR ART & PHOTOGRAPHY
Too many pictures you say? They don't always have to be perfectly hung to be seen. A lovely relaxed way to display artwork is simply stacking them, slightly overlaying each one. This works on shelf or on a sideboard/ unit. Equally, you could create the look on the floor by stacking a rage of medium/ large artwork along a wall or in a corner. Try using old vintage frames to create a "worn-in-heirloom" look!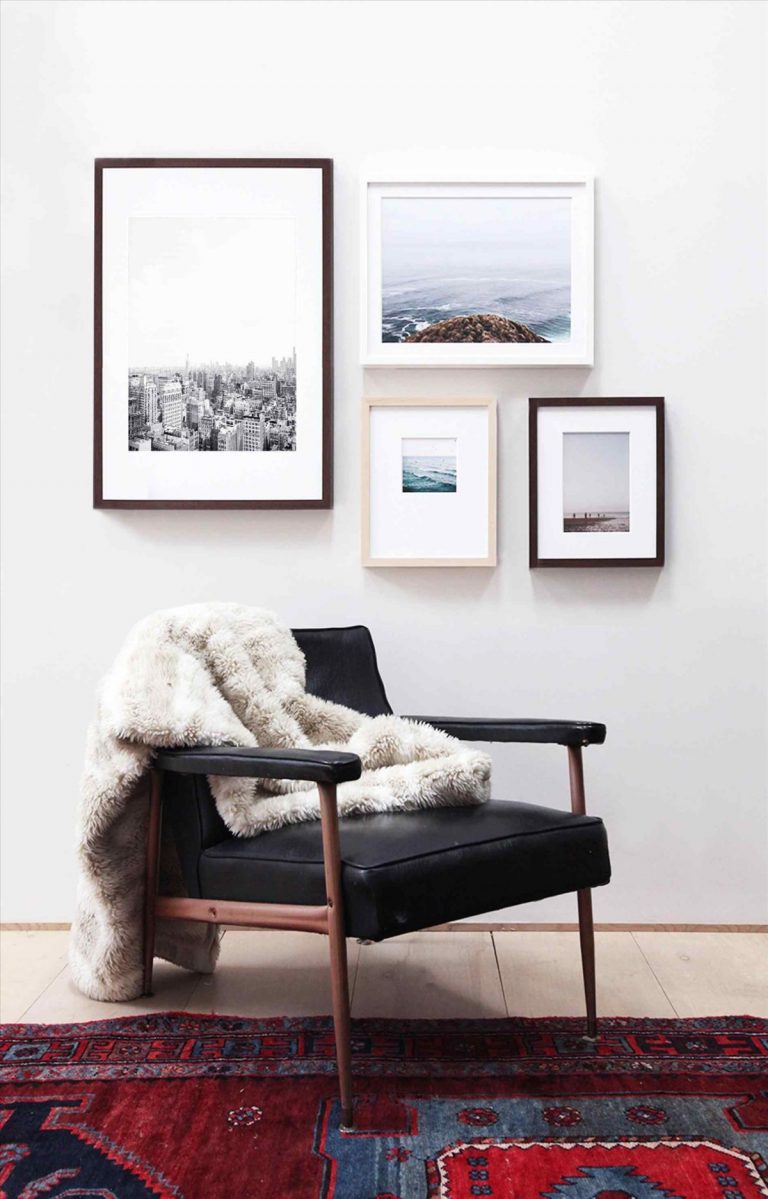 TRY A SALON STYLE HANG
You don't have to have gallery size walls to layer the pictures. A tight group of images works well on a wall to create a sort of pattern of artwork. The look doesn't have to use all the same frames or style of frame but can look great with a mix of frames, sizes, and colours.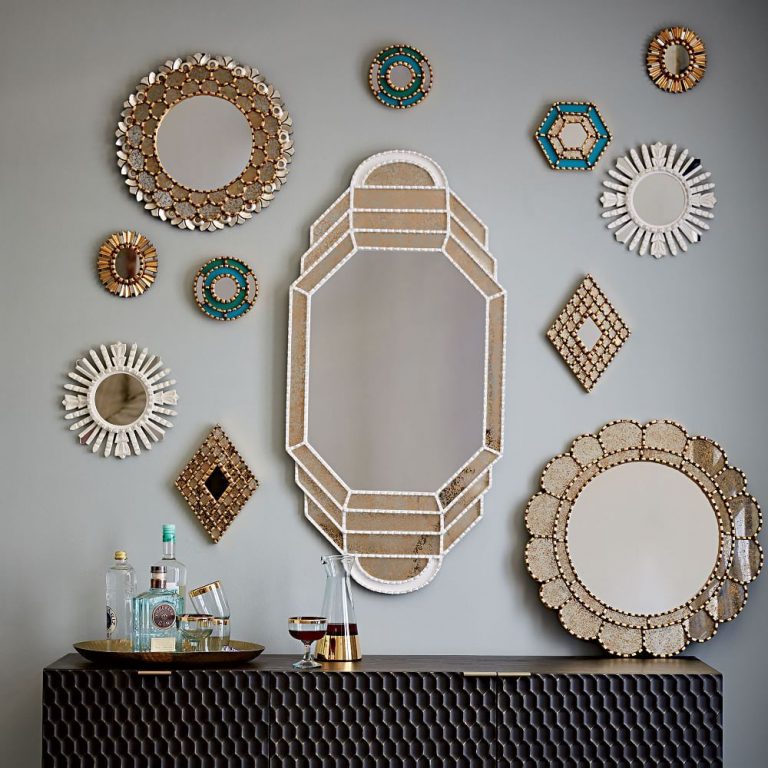 CREATE A FEATURE WALL
Create a wall of interest with treasured collection. Beautiful mirrors as seen here, make for a fascinating as seen here, make for a fascinating display without too much effort. Keeping to a simple palette allows you to add depth by layering without have to add depth by layering with having to add colour schemes or pattern. The look simply "is" through having comparable items grouped together.
LAYERING WINDOW DRESSING
Remember the net curtains of your grandmothers' era? The idea of having layers of window dressing is definitely a way to add visual warmth to a room. Having a pair of curtains with sheer material underneath a solid or blackout curtains, also provides versatility. You can use both or just one depending on how the light falls and the privacy you need. But this style of layering can really beautifully and softly dress your windows.
STICK TO A THEME
…..and so many to choose from! Perhaps your theme could be from the biggest collections of items you have, e.g. cushions or from a colour scheme. Even just a plant theme can work; like this tropical, plantation theme, this theme features furniture in natural materials as well plant motifs on the upholstery, vase and carved cabinet. Whatever your theme, pick items that to you visually enjoy and can repeat, e.g. a green leaf pattern upholstered chair, with green leaf pattern upholstered chair, with green leaf framed pictures, some large green plants and touches of similar greens in some soft furnishings. Then leave the rest fairly simple. This way the items can shine and not overwhelm.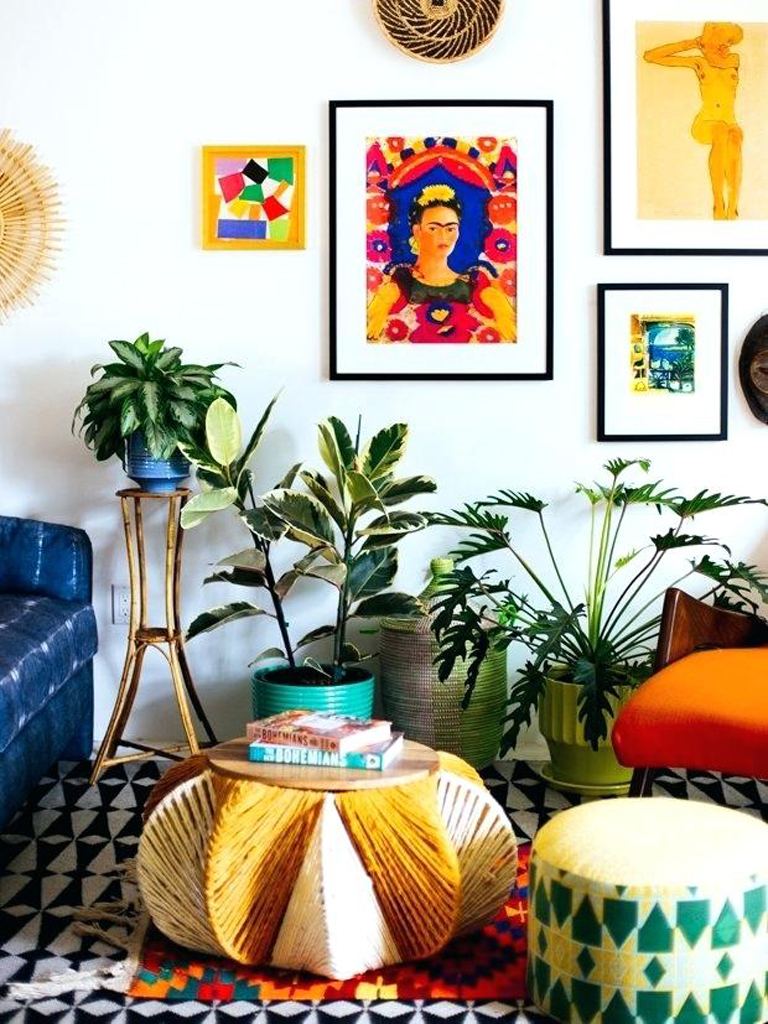 COLOURFUL BOHEMIAN VIBES
If colour and fun is your passion, then the colourful bohemian look is a great way to go! Bags of colour makes such a pleasant place to be. You can go all out, as in the in image, or have touches of it in the room. In this scheme the designer has employed the use of layers in every possible way, layering of geometric rugs, it's the black and white that grounds the two. There are layers in the furniture pieces in different scale, shape and colours, layering of plants and art collections too. They have really gone all out, and what a success the outcome is!
Have fun with it!
Are you overwhelmed by the layering possibilities, let one of our friendly designers help you curate a look and pull it all together! Contact us here.